BODY MUSIC / BODY PERCUSSION / ACAPELLA VOCALS / POLYPHONIES / CIRCLE SONG / DANCE / HUMAN BEAT-BOX / BODY EXPRESSION / MUSIQUE CORPORELLE / PERCUSSIONS CORPORELLES /
Artwork based on groove & singing with energy, dance, poetry and humor.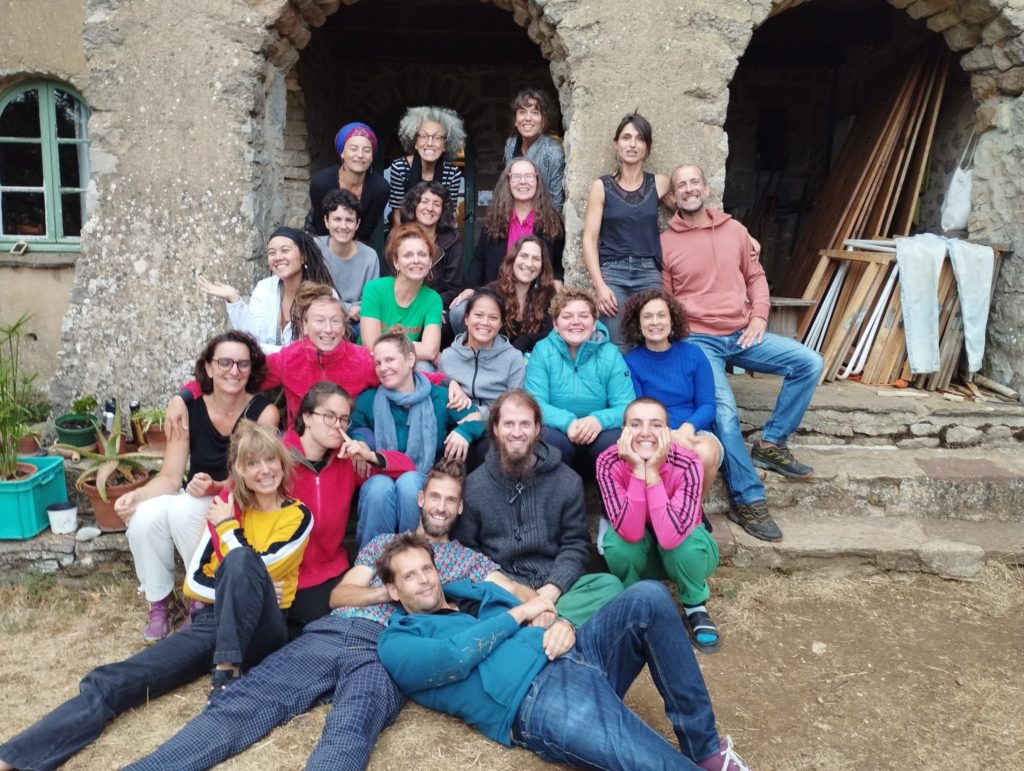 The Circle Song and vocal improvisation retreat at NOGARET has become an unmissable event for vocal improvisation enthusiasts. Nogaret is a magnificent building planted in the mountain at an altitude of some 700m in the town of Roqueredonde, just between Hérault and Larzac.
This immersive workshop is for singers who groove and groovers who sing!
By multiple tools of which your servants are specialists, body music and singing, groove, associated with the intense joys of the Circle Song, polyphony, rhythmic independence (clap & sing), we will groove for 6 days in total immersion in this marvelous place in the middle of nature, working both structurally and sounding together!
These two complementary approaches will invite you to acquire in the body and in the ears the magic mechanics of the groove.
The end of the day will take place in a tutti in a festive and creative atmosphere to celebrate the joy of singing together !
APPLICATION : Please provide 2 recordings with your solo voice (song, improvisation, or other that is representative of your musical universe)
to be sent in the same email to the following 2 Adress : Nogaret, 34650 Roqueredonde, FRANCE
https://nogareve.fr/le-lieu/photos
David: circlesongsdesk@gmail.com and Rémi: contact@humanophones.com
HUMAN'ORCHESTRA "Embrassez-vous"
04 MAI 2023 / ANTROPUS – Cafe Theatre Schalotte Berlin/ Allemagne
06 MAI 2023 / ANTROPUS / Festival Acappella Hannovre / Allemagne
10 MAI 2023 / ÄKÄ FREE VOICES OF FOREST / Scène nationale du Mans
13 MAI 2023 / ÄKÄ FREE VOICES OF FOREST / Scène nationale de Bourges
25 MAI 2023 / ÄKÄ FREE VOICES OF FOREST / Centre Européen de Conques en Rouergue
26 MAI 2023 / ÄKÄ FREE VOICES OF FOREST / Centre Européen de Conques en Rouergue
27 MAI 2023 / ÄKÄ FREE VOICES OF FOREST / Centre Européen de Conques en Rouergue
16 JUIN 2023 / ANTROPUS / Freiburg Black Forest Festival / Allemagne
30 JUIN 2023 / NDIMA / Le Taquin – Toulouse
1 JUILLET 2023 / ATELIER NDIMA Centre chorégraphique James Carles 10h-13h
21 JUILLET 2023 / NDIMA / Festival le Rêve de l'Aborigène
23 JUILLET 2023 / NDIMA / Festival Chamoisic Vallée de l'Aoste
17-18-19 AOUT 2023 / LE DILEMME DU HERISSON
15 AOUT 2023 CORPUS / L'Astrolabe Figeac
DU 22 au 28 AOUT 2023 / STAGE CIRCLE SONGS David Eskenazy & Rémi Leclerc
24 SEPTEMBRE 2023 / CORPUS / Septfond (82)
14 OCTOBRE 2023 / LE DILEMME DU HERISSON / Festival Cirque & Paillettes à Lanta (31)
2 DECEMBRE 2023 / ANTROPUS / Les Docks – Cahors (46)
19 DECEMBRE 2023 / LE DILEMME DU HERISSON / L'Astrada Marciac